How Traditions Inspire Today's Artists 2017
CAC Exhibition at ASU West Fletcher Library
"How Traditions Inspire Today's Artists was a unique exhibition at ASU West campus January-February 2017. High school students along with professional artists were invited to reflect on the question, "How do my traditions inspire my creative expression?" The work was displayed on two floors of the ASU West Fletcher Library for 4 weeks with a closing event and reception for the artists on February 10th, 9 a.m. to 1:00 p.m.
The Community Artists
The Cultural Arts Coalition comprises cultural workers as artists, educators, social workers, activists …anyone who aligns with our mission and practices to bridge cultural understanding through the arts. We practice the arts as a means of communication, through symbolism and dialogue promoting individual voice and social connection with advocacy for self and others. We are honored to create spaces for artists to work alongside one another. This particular exhibition highlighted the work of five community artists, along with Huichol resources and artifacts collected by Judy Butzine, and the work of South Mountain High School Magnet Arts students.
Thuong Nguyen
Thuong's paintings honor the environment and universal human ideas. "Each work is a question I ask about existence, destiny, and humanity. Each question leads into another work. The road is endless for the true traveler." Thuong is originally from Vietnam, and came to the USA as a child following the fall of Saigon.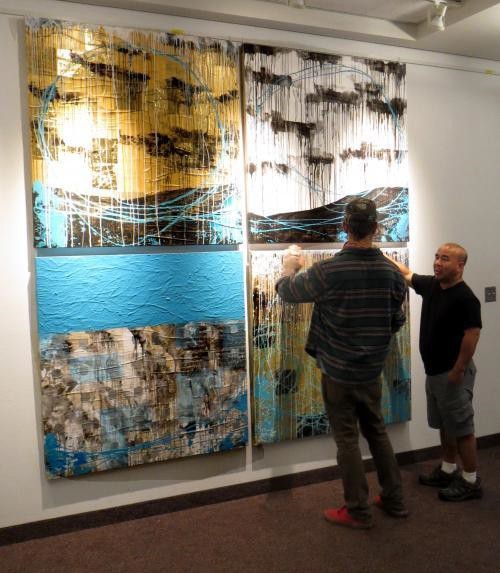 Mitra Kamali
Mitra was a refugee from Iran. In this exhibition, she celebrates female Persian poet activists of her country of birth. Her father was Poet Laureate to the Shah of Iran. Following the fall of the Shah, he was under house arrest for 7 years. Mitra and her sisters were out of the country at the time, and they were eventually able to purchase the release of their parents.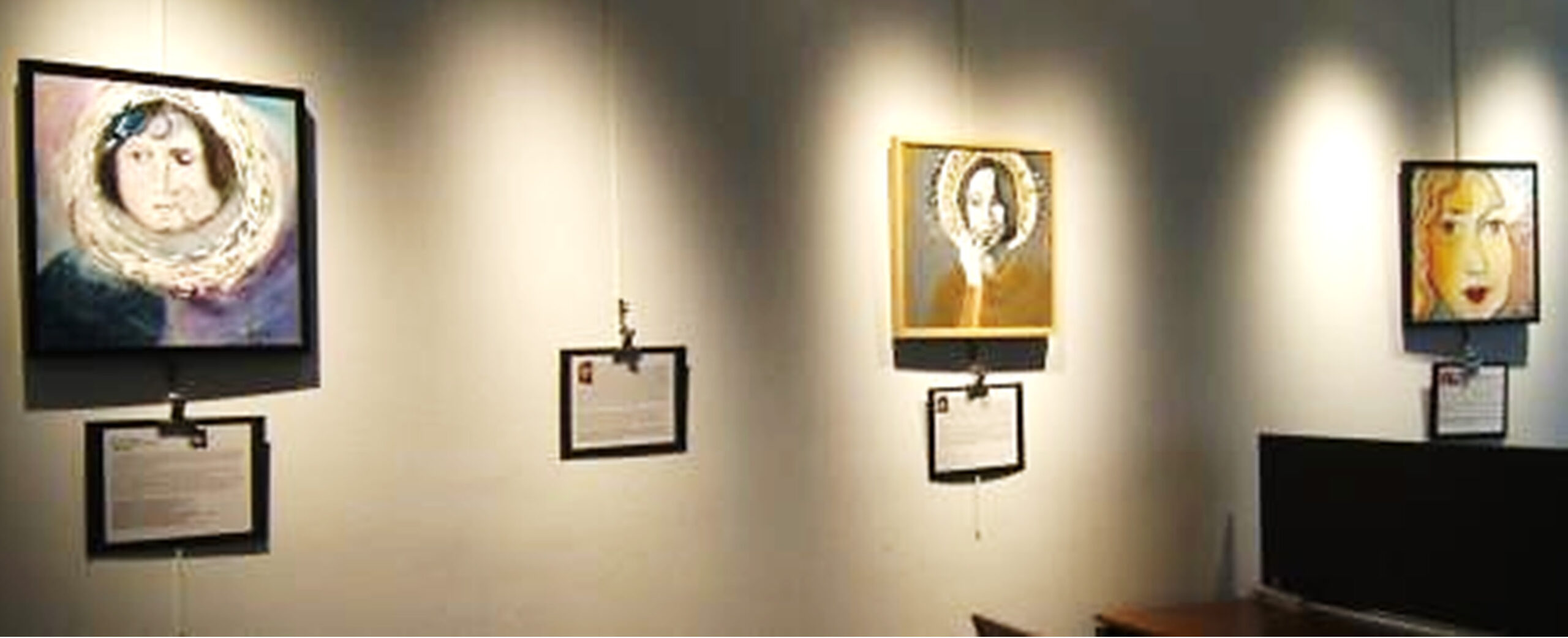 Parvin E'tesami (1906-1941), Classical poet, translator
Says Mitra of her painting above left, "Parvin E'tesami is one of the most influential poets in Persian literature with [her use of] masculine language. Her [body of work] contains the pain and suffering of the human race, women's rights, and gender discrimination. She started to write poems in childhood. Her poems were published in a well-known literary magazine at a young age. She mastered Persian and Arabic literature from her father who was an intellectual and a translator."
Oliverio Balcells
Oliverio is an immigrant from Jalisco, Mexico, and his paintings reflect the sustainability of the Huichol people, a pre-Columbian culture that lives today in the Sierra Madre Mountains of Mexico.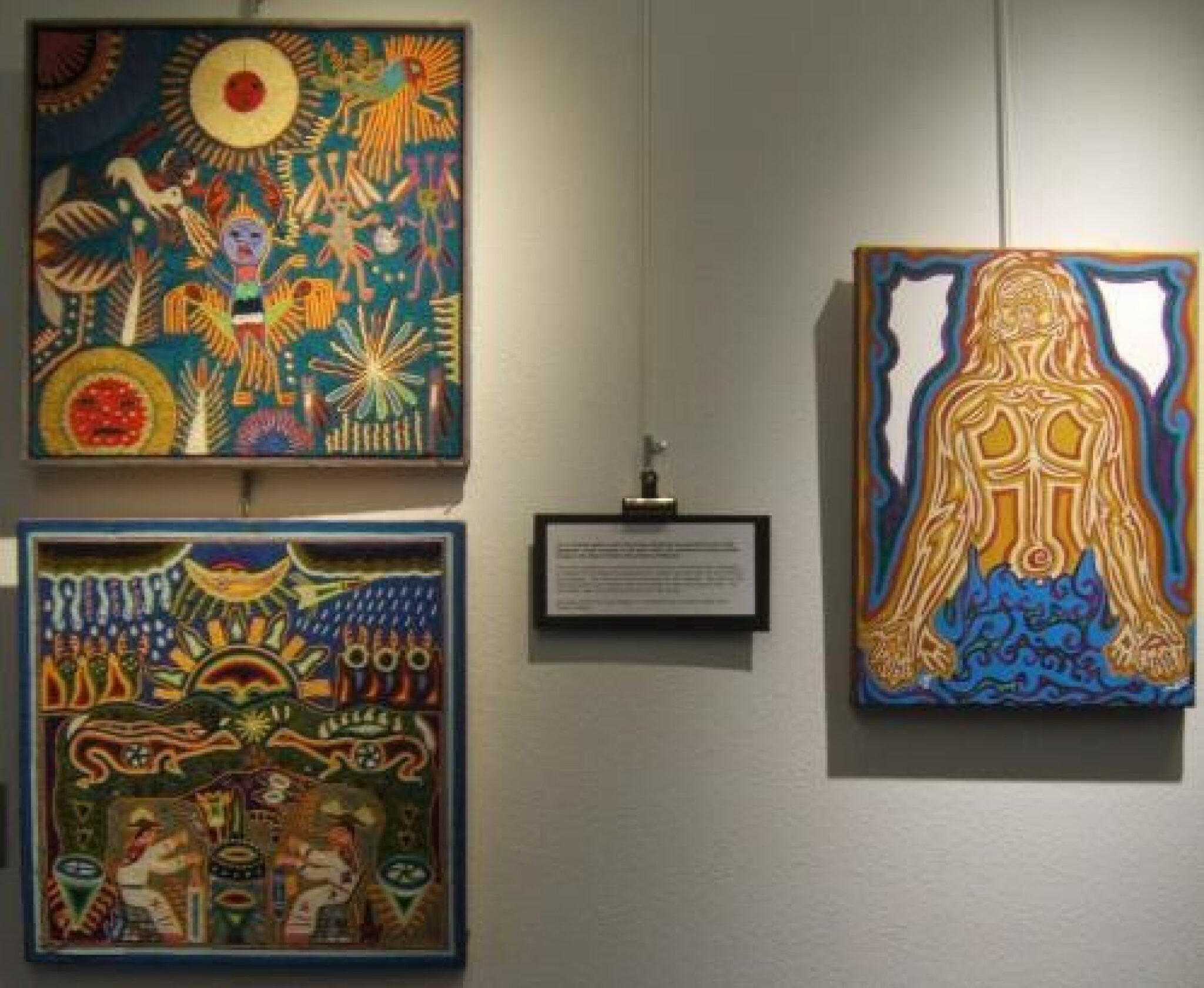 Oliverio's painting [above right] is shown in combination with two traditional Huichol yarn works. He states, "These paintings reflect the main idea of the whole collection, that no matter what language you speak, no matter where you were born, no matter what color of skin you are… at the end we are just humans; but we need to get together, learn from each other and work as one for the future of humanity."
Janet Broyles
Janet was a teaching artist and program director at South Mountain Magnet Arts High School for many years. She reflects, "As a young Midwestern schoolgirl, I loved the simple lines, shapes, and colors used in art-making, and the items—crayons, watercolors, scissors, pens/pencils, clay, fabric, etc.—used in its creation. My artwork became mix-ups of traditional and basic art elements. Art was pure freedom…!"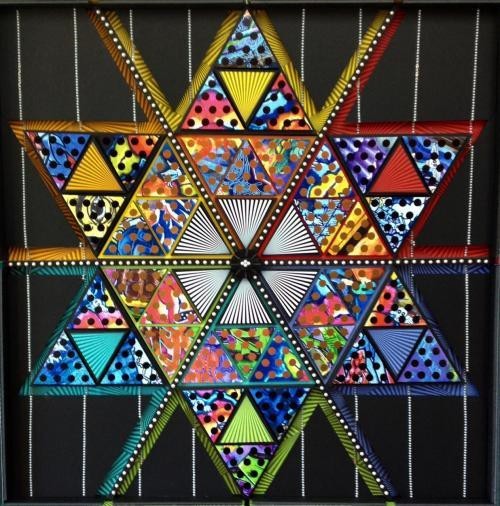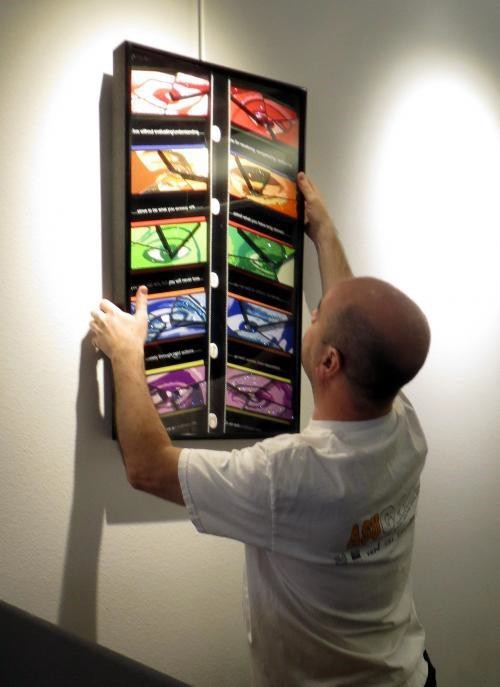 Of the mixed-media work above right, Janet said, "This piece focused on the chevron-shaped 'eyes' pulled from Phoenix street murals. Pieces were colorized to create harmonic but strange pairs of eyes that follow the viewer. As an only child, I was carefully watched and monitored, and that continues to this day with my job choices, etc. This piece includes 5 stones from a recent rune casting along with the written wisdom of 'putting right action before self-interest.' The artwork is layered with digital eyes and glittered shards and is unified with bold primary colors and strings of pearls."
Christy Puetz
Traditional Huichol yarn paintings and beaded objects are showcased along with the contemporary beaded and mixed-media deer and jaguar sculptures created by Christy. Christy is a community teaching artist who presents weekly workshops at multiple locations throughout the Phoenix Valley. She is also the program director for Beads of Courage, working with children who have cancer and terminal illnesses in hospitals throughout the nation. "My artwork uses a combination of fiber art and sculpture-making techniques. I use these as an unconventional platform to document and express the way I understand the world around me. I use absurdity, beauty, and humor to comment on issues in a way that makes difficult subjects more approachable.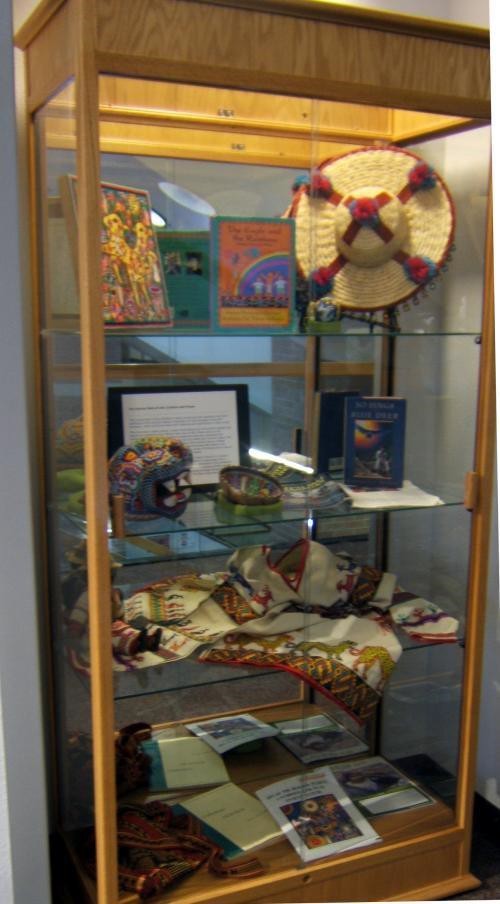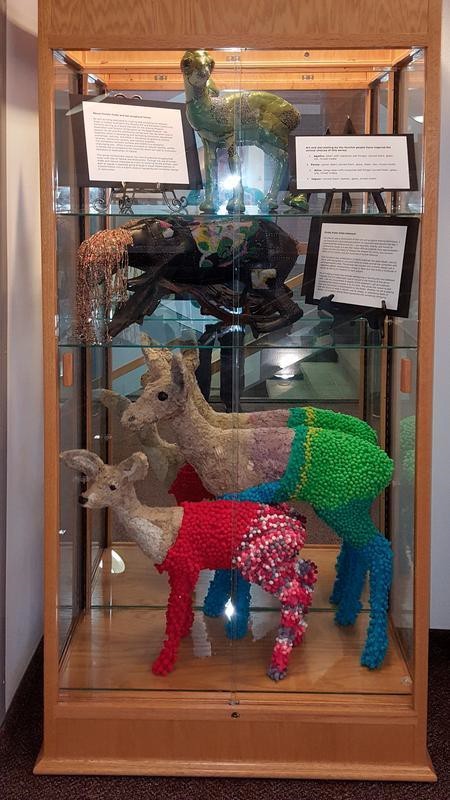 South Mountain Magnet Arts High School
The third floor of the ASU West Fletcher Library held work by South Mountain students. This participation was guided by educators Eric and Jeff with a team of Magnet Arts teachers as part of a semester of curricular work.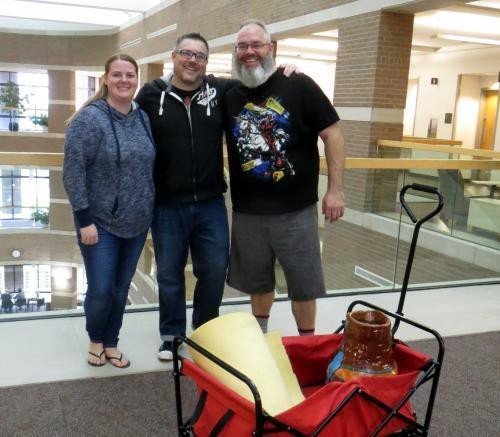 Thank you as well to Margaret Rodriguez and Dennis Isabell, administrators at the Fletcher Library, for making the exhibition possible year after year. In the image below, Margaret and Dennis chat with CAC cofounder Dr. Melanie Ohm (center).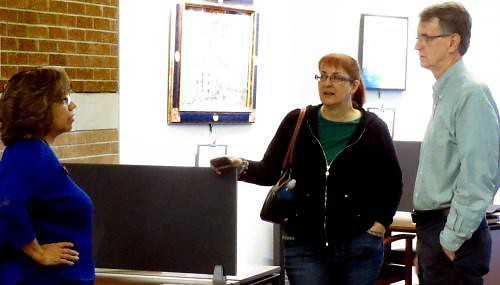 Paul Hillman and Michael Butzine provided expert support for the installation of the exhibition.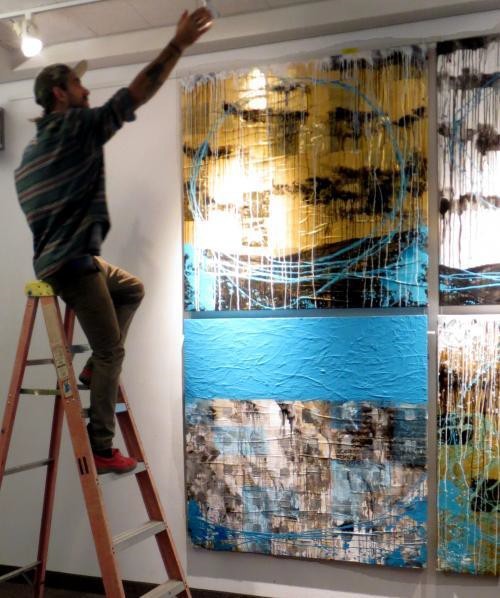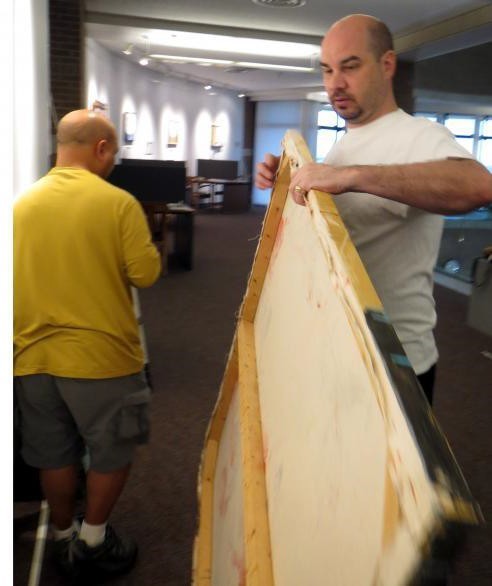 Judy Butzine (below center), MSW and cofounder of the CAC, dreamed and curated this exhibition. This photo documentation is abridged and adapted from a previous narrative by Judy.